Over at
Critter Sketch
, we have a fun Back to School challenge today.
SKdigis
is our sponsor for September, which is really fun, because I am a part of that design team and today they are kicking off their very first Blog Hop and Challenge! Come check it out and take a look at the
SKdigis
store to find some super cute images!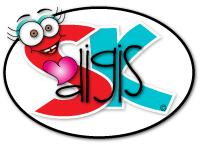 I made these fun treats for my daughter and a few of her friends, I'm a little late, as school started over 2 weeks ago, but it's the thought that counts right? I just used clear treat bags and made tags with the Happy Fish image, used scraps of paper and washi tape on the tag, and put Swedish Fish in the bags
Here is my card for the Back to School challenge using SKdigis Happy Fish image. I did a "school" of fish for the front and inside it says "Best Fishes for a Great School Year"
I printed out a couple sheets of Happy Fish in all differents sizes, colored them with copics, added stickles, pattern paper and a tag hanging from twine....I was going for the fishing line look with the twine, not sure if it works or not,but I think it turned out anyway!
I based this on the sketch from Freshly Made Sketches, but won't enter the challenge.....I tend to get messy with the inks and distressing, but after I flipped the sketch, it was what worked for this card.
So come join us over at Critter Sketch, link up your creation and play along! Hope to see ya there!!
I am entering this in the following challenges: