Hi my bloggy friends!! I hope 2014 is starting off fabulously and that you had a wonderful Christmas/Holiday season!
I would like to invite you to check out our first challenge at
Open-Minded Crafting Fun
! Head over to see what we are all about and join in the fun! We will be having a new challenge every other Saturday, 4 sponsors for each challenge and each DT member will choose their favorite project.
Our first challenge is to use a new technique or new toys/tools that Santa may have left under the tree! Me...I am my own Santa and tend to buy my own gifts, the husband did help though with a couple of gift cards! Yay him!!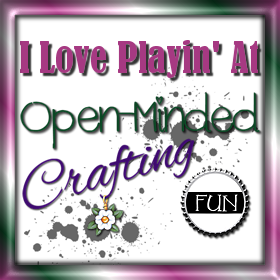 So here is my card using the darling image
FLORA
from Crafty Sentiments. I used a mixed media technique that I haven't tried before, I bought some new Tim Holtz tissue paper, gelatos and a couple Distress Paint daubers. I adhered the tissue paper to the cardstock with Claudine Hellmuth Studio Multi-Medium in matte finish. Covered the whole area with Broken China distress paint, used a baby wipe to wipe most of it off and then adhered everything and did another coat with the multi-medium to give it a surface that I could shade with the gelatos and use my finger to smooth it out (holy run-on sentence!). I used some stickers from Simple Stories Vintage Bliss collection, a couple flowers, button, twine and white enamel accents for the dots on the letters. It was a super fun technique and I will be doing more of this, but probably in an art journal.
Check out our
WONDERFUL
sponsors and the prizes they are offering:
A Day For Daisies
-3 images
Eureka Stamps-
5 images
Crafty Sentiments Designs
-3 images
MilkCoffee Digital Designs
-5 images
Come on over and check out what the other DT members have created and join us for a chance to win!!
I would also like to enter the following challenges:
Color Me Creative
-ATG
Oozak
-Anything Goes/Blue Tones